Blog Post: A Reflection On Transitions
I have always had a special relationship with fall. As a landscape designer, many of my year's projects from Toronto to Muskoka, are at a point of realization, and I am gifted with a moment to reflect and take stock of all that has been accomplished and make time to plan for the future. From a design perspective, my favourite element of autumn is the striking transition between seasons. The vibrant and steady change forces one's attention to the smallest of details in any landscape and allows you to view your home from a different perspective every day. I consider fall to be nature's crescendo. While the soft beauty spring and summer brings is elegant and fresh, the bold attraction of fall gives off an air of maturity and drama that refuses to be ignored. It is a sensory reminder that we are all sharing a moment of change.
As I am celebrating my twentieth year as a professional in the landscape architecture and design field, I am now confidently setting the roots that have shaped my vision for decades. For that, I am truly thankful to my clients and my landscape contractors and builders for their support and trust in my approach to exterior design.
With their collaboration and the global shift toward sustainability, I have been given the opportunity to explore my creativity in a way that coincides with my appreciation for the symbiotic relationship between functional living spaces and nature.
Recently, I had the opportunity to visit a project we have been working on since 2018. This lakeside retreat is a perennial favourite, in that year after year, we renovate another section of the property, and as it grows and comes into its own, it has evolved into an atmosphere for wellness and reprieve. While incorporating the existing architecture and features, we have transformed this space into a sensorial retreat.
When I first visited this property, there was an immediate shift in energy as I travelled down the long lane and was met with a magnificent lakeside home, nestled into the existing terrain and woodland. The client's and architect's vision was undeniable, and I felt a responsibility throughout this project to honour the 'genus loci' (sense of place). In doing so, I went to work on creating what is now one of many the highlights of my career thus far.
Our decision to incorporate oversized limestone slabs met the scale of the property while providing direction through the backyard to a series of outdoor living spaces, transitioning from home, to pool to lakeside.
A tiered cedar deck offers a space of seclusion with a contemporary design and an opportunity to enter a private seating area, surrounded by nature.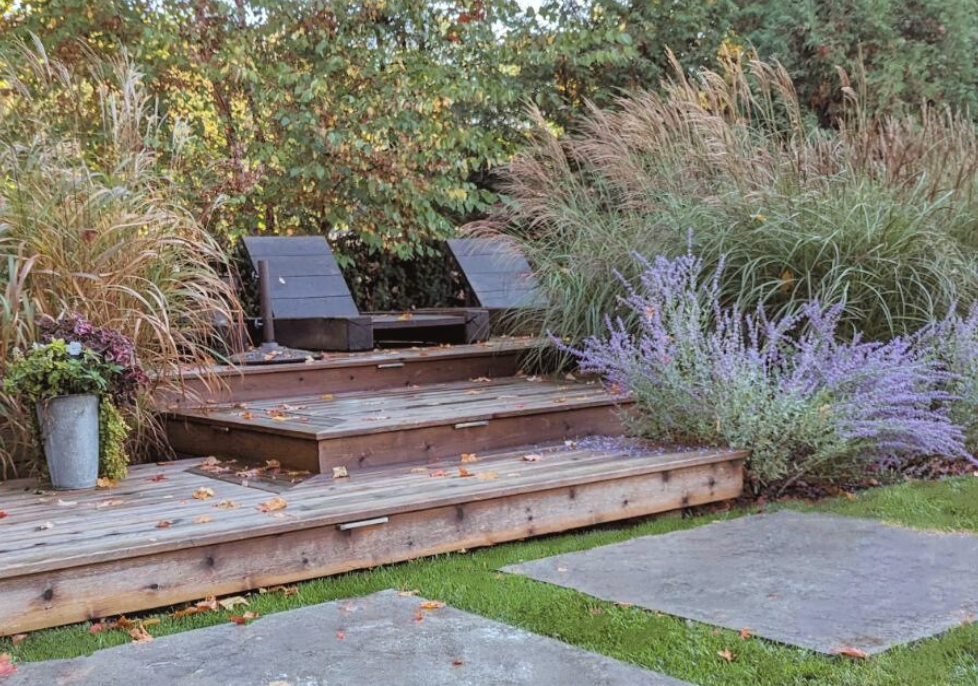 Deep garden beds with four season interest provide a visual transition from the terraces to the woodland and a spectacular view of the bay. An existing stone staircase became an opportunity to feed the senses leading down to the modern boathouse (turned home office) and dock. What was once a cold and harsh flight of steps down to the water, became a transitional experience. One can feel and smell the texture and fragrance of the creeping thyme ground cover and natural stone steps. Light, moisture, and early frost are captured as they glisten in the vertical plumes of the grasses. A blend of sedums provides a drought tolerant solution while expressing colour and contrast. This path is fully functional yet dramatic, but what's more, it is something to live through.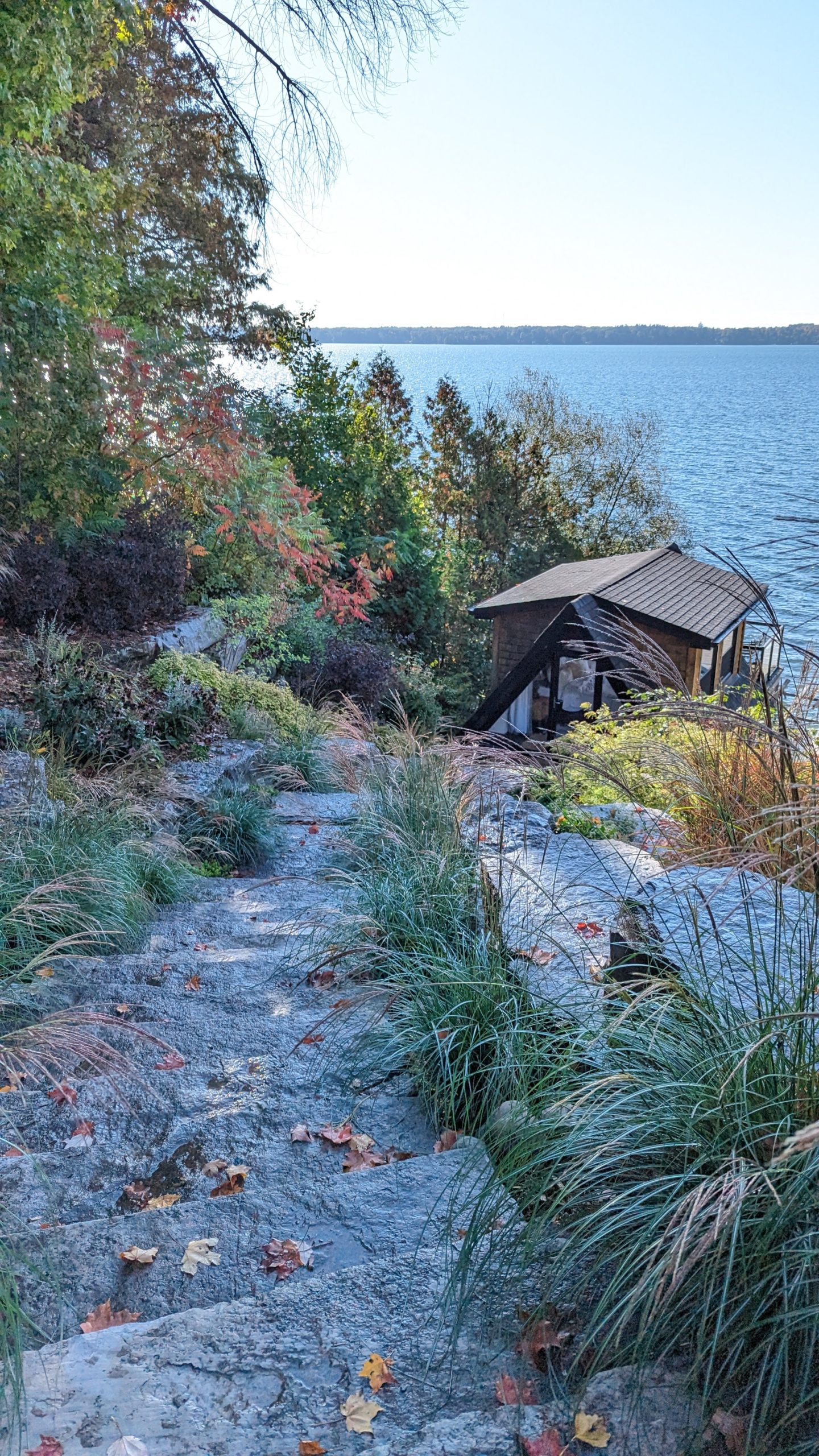 Moving toward the front yard, most recently we have incorporated vintage barn cupolas as a sculptural feature in honour of the area's history as a farming community. This client has a strong respect for the heritage of the land and realizes the importance of representing its history throughout the landscape. These cupolas are immersed in a sea of black granite peagravel and a blend of Irish moss, which provide contrast and texture to the space.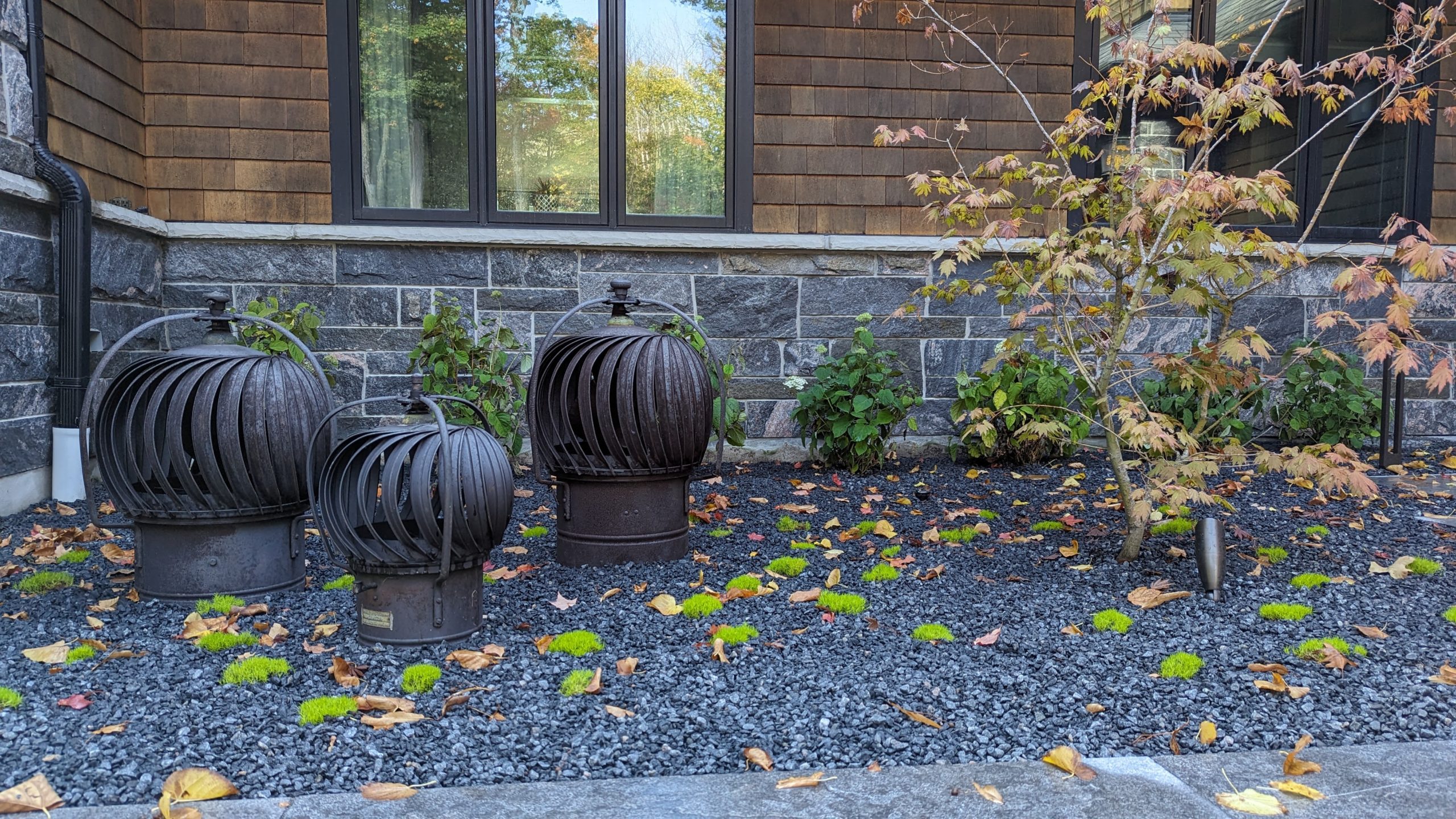 It has been humbling and a true honour that most of our landscape design and installations this year have been with repeat clientele, and for that I am thankful for their continued trust. These are existing clients from across Toronto, the GTA and cottage country who have purchased or built new homes or some clients prefer to take a phased approach to construction with a wish list in hand for each season. Once the master plan is complete, we prefer to work at our client's pace and assist them with prioritizing their seasonal budgets with a long-term vision in mind.
This allows our clients the opportunity to maximize their investment with less compromise on materials. The end result is a timeless landscape built to last and a true exterior for living. The last few years have been a time of rapid transformation. People have spent a considerable amount of time reevaluating what they have and what they need.
Above all else, most of us are looking for a sanctuary. A place where they can retreat and reflect, all while being immersed in an environment that has been tailored to their particular needs. It is not surprising that through the pandemic, we have all found greater value in the comfort of our home, and I strive provide an exterior refuge that enhances their most beloved qualities and offers a retreat only a few steps away. If you'd like to learn more about our process or how we can turn your property into your very own reprieve, please reach out and let's chat.