FOREST HILL LANDSCAPE DESIGN
Featured in Toronto Life's 2018 Great Spaces issue for its boardwalk detailing and inspired outdoor living space.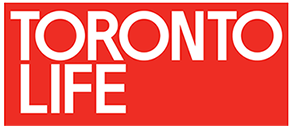 JHDG was asked to create a contemporary, multifunctional backyard space for this formal semi-detatched Forest Hill home.
The property is very long and narrow, with a tall apartment building backing onto the lot, creating privacy issues. There was also an old shed at the back of the property that had good bones but needed updating.
Our designer created a Ipe boardwalk through the backyard from the flagstone dining area, stepping over a reflective pond and pulling the space together, naturally drawing the eye to the focal point of the updated shed. The pond is filled with lighted spheres, casting a glowing ambiance at night.
The flagstone dining area complements the new outdoor kitchen with a bar and granite counter for a complete entertaining area. The length and width of the lot did not allow for a lot of planting, but natural elements were added in the form of columnar hedges, which also added privacy.
This modern take on this Forest Hill landscape design created a multifunctional space for the homeowner, making use of the space's best features, and a hub for entertaining.
Please fill out a brief form and our office will contact you shortly.
PHONE | Barrie & Cottage Country